coming this July 8th. Wimberley, Texas.
Great leaders know that EQ skills are the key to success. Only the best and brightest take action to develop theirs. It's what sets apart those who rise to the top, and it can make or break a business.
Horses are the masters of this domain. These 1,000lb beings have the power to move as fast as cars and crush bones with a single kick. Yet, they are non-predatory, gentle and spend their lives in peace, communicating through eloquent, non-verbal skills within a herd of evolving hierarchy.
How do they do it?
By being emotionally flexible, adaptable, and perceptive, without biases and stories. Through listening and reading non-verbal communications, and knowing how to react and respond fairly, quickly and with consistency. From an ability to express and control emotions effectively, and balance kindness and firmness to get the job done. All while knowing how to stay in the present and let go of the past.
The world – and business – are evolving at an accelerated pace of change. Leaders can no longer succeed without emotional intelligence (EQ).
Amidst The Great Resignation, "employees, unsatisfied with their work conditions, have been quitting in droves already—one of the top reasons comes down to poor emotional intelligence exhibited by management.."
~ Melissa Banek. Forbes Human Resources Council
get EQuified with the tools you need to succeed – and meet the challenges of modern leadership in this one-day
accelerated learning event that combines the proven technique of Co-Active Executive Coaching with powerful biofeedback from human-horse interactions.
powerful, profound EQ breakthroughs in a single day.
Acceleration
Find and release what holds you back from reaching your full leadership potential and tap into the transformational skills to breakthrough
Elevation
A out-of-box program combines teachings from human and horse in a live, real-time learning experience that will raise your EQ skills in unimaginable ways
Community
Meet and interact with like-minded, successful leaders like yourself in an intimate group guided by trained facilitators in a non-judgmental, results-oriented space.
advance, recharge & recenter.
Increase your EQ skills while enjoying an authentic Texas Hill Country ranch experience just 45 mins from Austin:
Scenic views, peace and tranquillity on a 25 acre, family owned horse ranch
Agenda designed to create maximum learning in a single work day
Become more self-aware of who and how you are in the eyes of your teams
Meet our master teacher horses and learn how to interact safely
Healthy lunch and snacks provided
A groundbreaking approach to success
When humans share space and connect with horses, something remarkable happens: our nervous system regulates to theirs, we see how these great beings move, engage and interact, and we gain powerful insight about leadership and community from them.
Equine-Facilitated Learning helps to promote a shift in our consciousness to a more evolved emotional space as we allow the horses to act as mirrors. With this unique experience, we get a glimpse of what is unconscious within ourselves, guiding us to a place of true aligned, gentle leadership and profound emotional intelligence.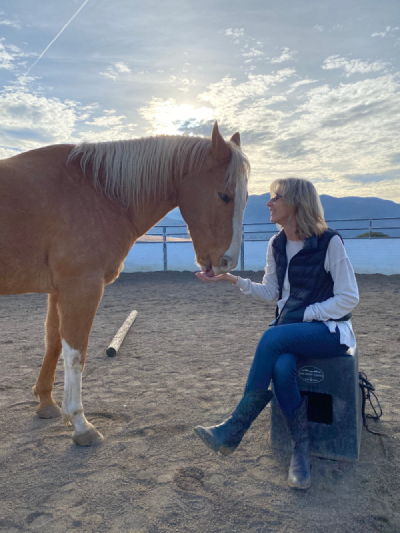 Prioritize your success and the success of your organization with the EQ skills of today's great leaders, with a workshop built around practices that create accelerated, long-lasting transformation.
You'll discover: 
Unconscious beliefs and biases holding you back from your success

Gentler yet more effective communication skills


Boundary-setting that creates connection vs disconnection

Better listening skills

A clear pathway to your growth, even in the face of uncertainty

New understanding of leadership, connection and community